But before you pass up on Pilates, we have some good news: Pilates might imply a pricey studio or fancy equipment to some, but in reality, all you need is a mat. These easy Pilates exercise require no gear, and are simple enough to try almost anywhere. You'll find yourself strengthening more than just your core, too. Mat-based Pilates is a gentle, low-impact, yet serious strength workout that research shows can help ease low back pain, reduce body fat, improve flexibility, and even support mental well-being. In fact, mat Pilates can be even more effective than using a reformer since you're using your own bodyweight to strengthen your muscles and stabilize your joints.
This set of Pilates exercises is designed to provide you with an at-home Pilates routine and help you build familiarity with Pilates mat exercises, whether you are new or experienced. These exercises develop the core strength, stability, and flexibility for which Pilates is famous.
What is Pilates?
Pilates is a form of exercise that uses controlled movements designed to improve physical strength, flexibility, and posture. The movements focus primarily on your core to condition your body and build stronger, more sculpted muscles without any excess bulk. The result is a sleek, toned body. Pilates can also help to improve your posture from the ab and back strength you'll gain through the controlled movements.
Pilates workouts help improve flexibility, balance and core strength, and are particularly effective if you suffer from back pain. Research published in the journal PLOS One in 2014 showed that Pilates can both effectively ease back pain and boost functional movement when compared to traditional methods like massage therapy and other forms of exercise.
There are two different forms of Pilates – one is mat based while the other uses large pieces of equipment generally found only in Pilates studios. The mat based form of Pilates is the most popular (and the one we will be focusing on for this post) and can easily be done at home.
Benefits of Doing Pilates Exercise
Improves flexibility
Improves core strength
A challenging low-impact form of exercise
Can improve posture and stability
Can be done with no equipment
Increases flexibility and range of motion
Improves muscular endurance and strengthens muscle tissue
Can be done after injury or as part of physical rehabilitation therapy
Try these simple pilates exercise to get started today.
Pilates Curl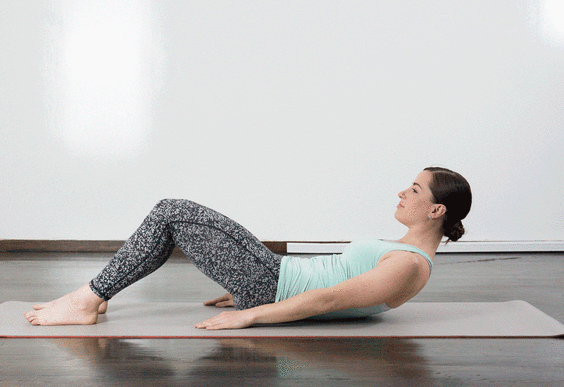 Lie faceup with knees bent, feet flat on the mat, and arms at your sides. Exhale, curling chin to chest and bringing shoulders completely off the mat. Hold for 1 breath, then lower back down slowly. Lift from chest to engage abs and avoid crunching your neck.
The 100
At the core of every Pilates practice is 'The 100,' which is designed to get your blood pumping and warm you up, Speir says. Struggling to make it to the end of this move? "Make this a "50" instead," Speir advises. "That means inhale for five counts and exhale for five counts. Do that five times. Focus on how much your abdominals are engaging and breathe."
How to: Draw both legs into your chest, hold on to your legs, curl your head and chest up to a tight ball (a). Send your legs out to a tabletop position with your knee directly above your hip and shins parallel to floor. Hold on behind your thighs and actively curl up, deepening and hollowing out your abs (b). Hover your arms right above your abdominal wall and start to pump your arms 6 to 8 inches up and down, taking deep breaths, inhaling for 5 counts, exhaling for 5 counts (c). Repeat 10 times, without taking a break. Rest your head flat on the floor, rather than curling it up, if the move feels too difficult.
Half Roll-Down
"This warms up the body, giving it a road map of what you expect out of it for the rest of the series, from the lower abs, to the spine, to the back of the legs," explains Busko.
How to do it: Begin seated with knees bent, heels on floor, and hands on sides of thighs (A). Exhale and pull abs in toward spine, tilt pelvis so low back is pressing to the floor and small of the back is the leader, and roll down one vertebra at a time until lower back touches the floor (B). Exhale, and engage hamstrings, squeeze glutes, and hollow the belly to roll back up to start. Do 8 reps.
Standing Roll-Down
Stand with feet parallel, hip-distance apart. Inhale, then exhale while extending arms up and reaching through upper back. Inhale, then exhale and slowly roll down toward the floor one vertebrae at a time. Sit back as if sitting in a chair before reaching up and lifting heels. Return to standing.
Pelvic Curl
Lie on your mat with your knees bent, feet flat on the floor. Make sure your feet are hip-distance apart.
Inhale – prepare
Exhale – articulate your spine up into a bridge position one vertebra at a time
Inhale – pause at the top and reach your knees over your toes to open up your hip flexors
Exhale – soften your chest and articulate your spine down to the ground one vertebra at a time
Repeat 8-10x.
Roll-Up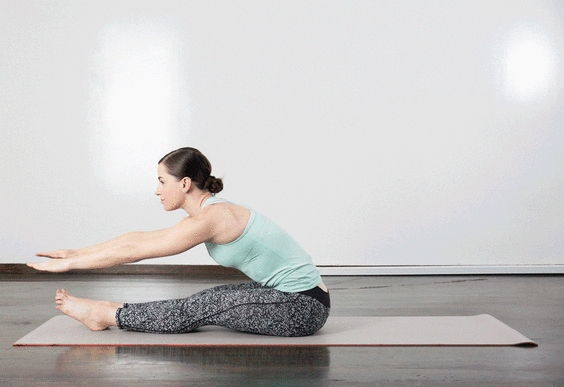 Lie faceup with arms extended toward the ceiling. Exhale, curl chin to chest, and roll up to a sitting position with arms reaching toward feet. Exhale and reverse to roll down, one vertebra at a time. Move slowly and smoothly with no forward lunging or jerking.
Rolling Like a Ball
Don't take yourself too seriously. This playful move is actually a simple way to simultaneously massage your back muscles while also working your abs, Speir says. "This exercise is great for beginners because the rounded shape of your spine helps teach you how to properly and effectively engage the core muscles, while challenging them to work hard.
Glute Bridge
"This move is the aspirin of the body," notes Busko. "Neck pain, lazy glutes, sciatica—the glute bridge can almost always fix it if done properly."
How to do it: Lie faceup with knees bent and arms at sides, palms face down (A). Push into arms, tuck hips, and roll up, starting with the small of the back and ending with hips (B). Starting with the ribs, slowly lower back down. Do 8 reps.
Dynamic Core Plank Series
Walk hands out to plank position. Engage your abs to draw right knee into chest. Extend leg back, pointing toes to the ceiling and engaging glutes and hamstrings. Repeat for 5 reps. Then, bring right knee to left shoulder in the same manner for 5 reps. Finally, bring right knee to right shoulder in the same manner for 5 reps. Repeat entire series on the other leg. To modify, lower knees to floor and limit leg range of motion.
Single Leg Stretch
Lie on your mat with your knees in table top position. Gently hold behind your thighs, nod your chin to your chest and lift your head, neck and chest up off of the mat using your abdominals. Place both hands on your right knee as you extend your left leg out on a 45 degree angle.
Inhale – switch legs, drawing your bent knee in toward you and flexing at the hip crease
Exhale – switch legs
Perform 8-10 reps on each side.
Double-Leg Stretch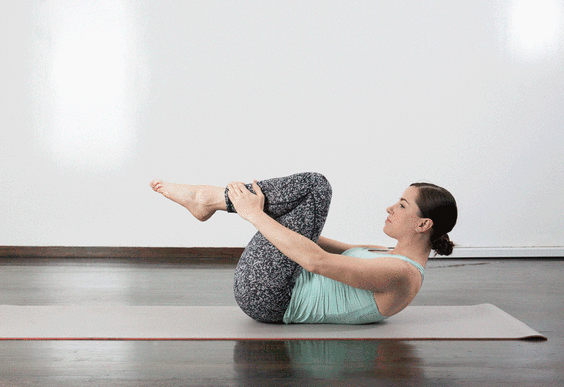 Lie faceup on the mat. Lift head, neck, and shoulders and bring knees to chest, arms hugging shins. Inhale, then straighten legs to a 45-degree angle while simultaneously extending arms along ears.
Exhale and circle arms down to hug shins as you return to starting position. Keep shoulders off the mat throughout and maintain even breathing.
Single-Leg Teaser
The single-leg teaser is an easy way to get your body prepared for the more advanced regular Pilates teaser — in which both legs are extended in the air. Mastering the single-leg teaser first will help you learn how to find and maintain proper form, Speir says. "Make sure your legs are tightly hugging together, even though one leg is extended. You want your knees touching the entire time," Speir advises. "This midline connection will help the lower abdominals engage and also keep the leg from swinging or dipping around, which makes the exercise more difficult and allows the back and hips to take over."
How to: Lying on your back, walk your feet in closer together, with your legs at a longer angle (not right in near your hands) (a). Extend one leg out, tightly hugging your inner thighs and knees together (b). Reach your fingers for your toes. Piece by piece, start to slowly round your body up reaching for those toes (c). Roll down only to your shoulder tips, come right back up and reach (d). Repeat four times. Place that foot down, send the other one out, and repeat 4 times.
Side Plank
"Side planks help with balance and stability, as they work every part of the core—front, back, and everything in between," explains Busko.
How to do it: Start in plank with shoulders over arms and abs tight (A). Move left hand in toward right; pivot feet, left foot behind right (B), rotating body to right. Keep hips lifted and extend left hand up (C); hold for 10 seconds. Return to A; repeat on left. Do 8 reps per side.
Thigh Stretch
Kneel on the floor with knees directly under hips, feet touching. Hinge upper body back about 45 degrees, engaging abs, glutes, and feet while maintaining a straight line from head to knees. Return to the starting position. For more challenge, sustain the hinge position and lower and lift your arms 10 times.
Swimming
Lie on your tummy with your arms stretched out in front of you. Lengthen your lower back and pull your belly button off of the mat. Float your arms, legs and head off of the floor, keeping your gaze down toward the mat.
Perform a swimming motion by raising your right arm and left leg, then switching to the other side, maintaining stable trunk the entire time.
As you move the arms and legs quickly, the breath pattern is one inhale per two swims and one exhale per two swimming motions.
Repeat for 8-10 breaths.
Crisscross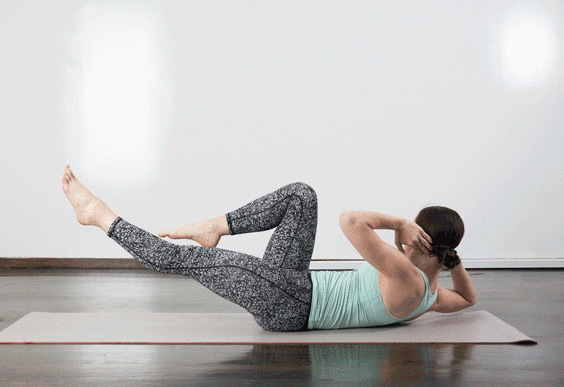 Lie faceup on the mat, hands behind neck and elbows wide. Lift head, neck, and shoulders off the mat.
Bring left armpit to right knee and extend left leg to high diagonal. Twist to the other side and switch legs, bringing right armpit to left knee and extending right leg.
Saw
If you tend to shy away from traditional ab work (like crunches), this move might be your new go-to. "This exercise helps open and stretch the shoulders and upper back," Speir says. "This is a must-do for beginners because it establishes a proper base and form for the body. It also builds strength, while giving a good juicy stretch."
How to: Sit up, legs spread as wide as a yoga mat (a). With your arms straight out to your sides, twist to your left (b). Stretch your right hand towards your left foot, pulsing three times (c). Roll up in the twist, untwist, and return to center. Repeat on the opposite side. Repeat once more on each side.
Pilates Pushup
"The Pilates pushup allows you to lift your body weight with the triceps, which is typically a neglected muscle." says Busko.
How to do it: Start in a plank with elbows stacked over hands and abs tight; squeeze inner thighs (A). Bend elbows and lower down as far as possible without touching chest to ground (B). Push back up. Do 8 reps.
Kneeling Side Kick
From kneeling, lower left hand to the ground and extend opposite right out, holding right hand behind head. Lift right leg to hip height, then lower for 10 reps. Then hold leg at hip height and rotate leg in small circles for 10 reps. To modify, lie on side instead of kneeling.
Double Straight-Leg Stretch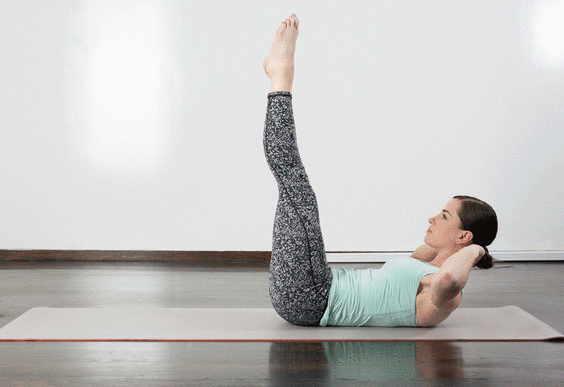 Lie faceup on the mat with hands supporting the back of your neck and knees bent toward chest. Exhale, bringing upper torso off the mat and extending legs toward ceiling. Lower your legs to a 45-degree angle for 3 counts, then lift again for 1 count.
Double-Leg Stretch
Lie faceup. Curl up to raise shoulders slightly and engage abdominals to support lower back. Extend arms by ears and raise legs to a 45-degree angle from the floor. Circle arms around and hug knees into chest. To modify, keep legs at a 90-degree angle and rest head. For more challenge, add leg beats, scissoring legs on top of each other for 5 beats with each extension.
Mermaid
This stretch gives some much-needed attention to the sides of your body, which rarely get the TLC they deserve, Speir says. "Not only does it feel fantastic but it will help relieve tension and lengthen out your body."
How to: Rest on your right hip in a seated position, with your legs folded together to the left side (like a mermaid!) (a). Place your left hand around your ankles, and hold your right arm straight up in the air, grazing your ear (b). Keeping your abdominals engaged, reach your right arm towards the ceiling, and then out and over to the left, making sure your arm stays straight. You should feel a stretch along the right side of your body. Repeat twice (c). For a counter-stretch, place your right hand on the mat, bending it slightly (d). Lift your left arm up near your ear, and stretch to the right. Spin your legs around, and repeat on the opposite side.
Teaser II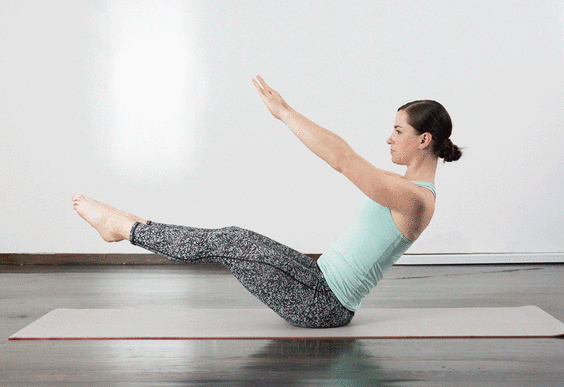 Lie faceup and hug knees to chest. Reach arms directly overhead and extend both legs to high diagonal. Stretch arms back toward ears, then shift them toward toes, rolling up to a seated V position.
Keep arms and legs at a 45-degree angle to the mat. From this position, lower and raise legs for 3–5 reps. Roll your spine down to the mat one vertebra at a time, then lower your legs to return to starting position.
Side Teaser
Lie on right side, supporting body with right hand. Engage core and rotate hips to lift legs as high as possible from floor to engage obliques. Return to starting position with control.
Double-Leg Kick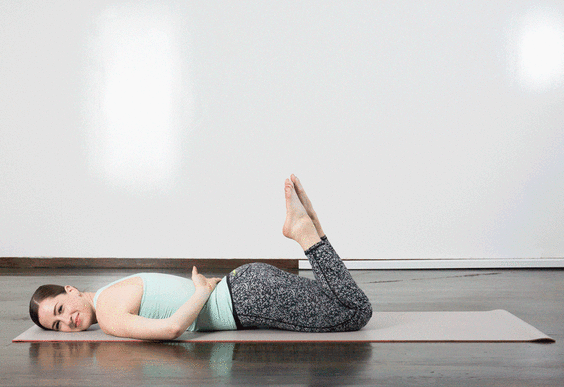 Lie facedown with right cheek on the mat. Place hands on low back, one on top of another, palms facing up. Allow elbows to fall toward the mat. Kick both heels to glutes 2–3 times.
Straighten legs, keeping feet off the mat. Extend clasped hands toward feet and lift chest off the mat, gazing straight ahead. You should feel no pressure in your low back. Lower your chest to the mat. Turn your head to the other side to repeat.
Swan
Lie facedown. Place hands underneath shoulders. Engage core and lift head slightly. Raise your chest up and extend arms forward as you lift legs 1 inch above the mat. Bend elbows so arms form a "W" shape, hold, then lower everything down to the mat.