Hiking and trekking, two activities that most adventurers deeply enjoy. The two terms are used online interchangeably, as though it's the same thing. But is it?
Hiking vs trekking. What's the difference? Is there even a difference between hiking and trekking? Is hiking vs trekking an age old rivalry, like England vs Scotland and maps vs GPS tracking systems? Or are they both the same thing? Like taps vs faucets? And maps versus… umm… some other maps?
At the risk of sounding a little bit like a high school essay here, what we're eventually going to conclude in this article is that hiking and trekking are more or less the same thing. However, there are some different connotations attached to each term. We'll also touch on those, so you never need be confused again.
What is Hiking?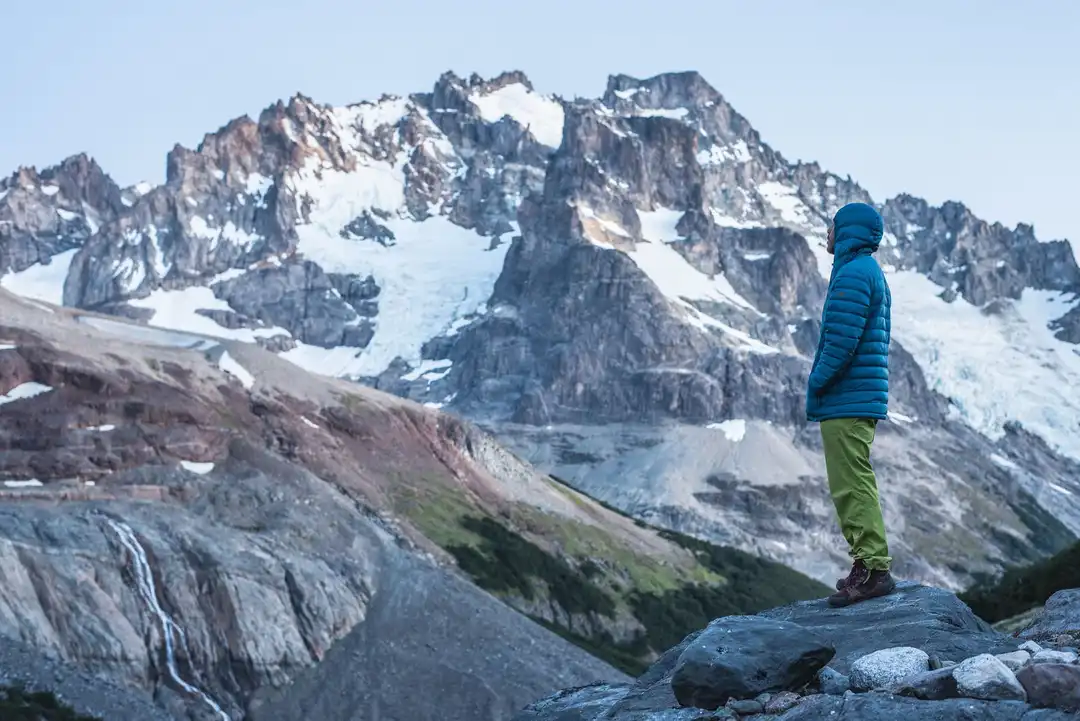 Hiking is walking in the great outdoors, generally in an area of natural beauty such as the wide Patagonian steppe, and usually following an established trail. The terrain might not necessarily be entirely flat or consistent, but the effort required to follow the trail should leave you with enough energy to look around and enjoy your surroundings. Hiking trips can last for several days but individual hikes last for a day at most, with hikers returning to their home, hotel or fixed campsite to sleep. This allows hikers a great deal of control over their own level of comfort and the distances they want to travel, as they're never more than half a day's walk from where they set out. Hiking is great for active individuals who want to explore everything that Patagonia has to offer and return to a hot shower, sophisticated food and a cosy bed each night.
Simple definition: Hiking is an outdoor activity that involves walking in natural organic environments on pre-charted paths called hiking trails. The pre-charted paths range from beginner to advanced levels of difficulty and there are day hikes and overnight hikes.
Long definition: Hiking is a leisure activity which can take place over just one day, or include unlimited overnight stays at hostels, campsites or guest houses, and generally involves walking along designated paths and following trails through scenic spots. Hikes can be as physically demanding as you choose, and you might go to explore a new and beautiful area, or to improve your physical fitness and get in shape. Hiking has also been linked to stress and anxiety relief. Fresh air to blow away the cobwebs, gorgeous views, the singsong of the birds in the trees – it's a great way to experience the outdoors and immerse yourself in the natural world around you! That is not to say that you should not be fully prepared for all possible weather conditions, bringing plenty of warm, breathable layers, medical supplies, ample food and water, and comfortable walking shoes to boot. Hikers carry everything they need for their expedition on their backs, and must be ready for every eventuality, even if they are treading well-marked paths.
Is Hiking Difficult?
Although hiking is more accessible activity, it can still prove to be a challenge to some people. Usually, hikes start and end in the same place. But some hikes have different starting and ending points. In most cases, a hike can last anywhere between 2 and 8 hours, but you can hike for as long as you please.
Clothing Or Equipment Required
Appropriate hiking footwear – if the hike is short then trail shoes will do. If the hike is long and you'll carry a heavy load, then hiking boots are best
Compass/GPS and a Map – these will help you find campsites and tell you where you are relative to your destination, emergency exit routes or water
Water and a means of purifying it – water will not only keep you hydrated by also protect you from altitude sickness and hypothermia
Extra food – the snacks you carry will help keep your energy levels high in case you get lost or when the terrain is more challenging than you thought or want to enjoy time by the river
Rain gear and additional clothing – carry a hat and stay away from cotton clothing
Safety items – you need things to make a fire, a whistle, and a flashlight. These are great if you will be hiking for long hours into the night
First aid kit
Knife
Sunglasses and sunscreen
Daypack or a backpack
Trash bag to keep trash you come across on the trail
What is Trekking?
Trekking is another way of enjoying the natural world but it differs from hiking in that the environment tends to be more challenging, so the journey requires more stamina. A trek may last several days, with trekkers carrying food and tents to camp overnight en-route, or they may stay in lodges where available. Trekking is not as extreme as mountaineering, but often there is no clearly marked trail to follow. As a pay-off for the additional effort, trekking will take you further away than the day-hikers to sights that others rarely see, such as the John Gardner Pass and Laguna Los Perros on the Paine Circuit in Chilean Patagonia, or the British Lookout on the W Trek. Trekking is suited to hardy outdoor enthusiasts who don't want to miss out on anything that Torres del Paine has to offer, no matter how far they have to walk to see it.
Simple definition: Trekking is a long journey also referred to as a "long hike" and is undertaken on foot in areas where there are usually no means of transport available. Trekking involves walking for a number of days, usually on uncharted paths, in challenging environments which are likely to be hilly, rocky, sometimes wet and mountainous.
Long definition: Trekking is generally used to describe a rigorous, multi-day trip across varied terrain, which is not normally accessible by other means of transport, and which often does not have established pathways, meaning a guide is frequently necessary or at least advisable. You should always carry a compass and a detailed map, as your orienteering skills might be tested. You'll be staying the night in tents or huts, so there is far less likelihood of home comforts than with hiking, where there is the possibility of returning home to your hotel at the end of a long day! Trekking is, as a rule, more challenging and intense as an activity, testing your physical and even mental endurance. It is vital to be in shape before starting the trek, and not to view it as a means to get fit in itself. It often takes place in tough, hilly or mountainous areas of outstanding natural beauty, like hiking, but trekking can also denote necessity, for it is sometimes an unavoidable alternative in the absence of other means of transport. Conversely, hiking is a purely recreational activity. It is absolutely crucial that all those embarking upon treks have the correct survival kit, as well as well-fitting, sturdy boots, poles, First Aid supplies, a roll of trusty duct tape for your blisters, all the essential gear you need to set up camp, and plenty of breathable layers to adjust to the frequently varying temperatures out in the wilds of nature. Treks are often supported by porters or animals to carry heavy packs and supplies, whilst a hiker will generally carry their own pack. Check out our article on what to wear on your Patagonia trek for more details, and this guide on picking the perfect pair of boots which will become your new best friends (but potentially your worst enemies if you're not careful!).
Clothing Or Equipment Required for Trekking
When packing for a trek, you should cap the backpack weight at 33 pounds. The checklist of things that you'll need during the trekking trip includes everything you'll need for a hike (mentioned above) plus several other items, including:
A sleeping bag
A camping mattress
Toiletries
Heavyweight gloves with waterproof coating
A down jacket or vest
Wool pants
Trekking boots along with spare laces
Warm hiking socks
Gaiters
Footwear to wear around the camp.
Telescopic trekking poles (optional)
Read more A Introduction What is Gymnastics?