For some people, gaining weight or adding muscle can be just as difficult as losing weight is for others.
Are you looking for healthy alternatives to high calorie nutrition drinks? Perhaps you are looking for healthy foods to gain weight fast… without of relying on nutrition supplements.
However, simply adding certain foods to your diet can make your weight gain efforts both healthy and more effective.
A term, "skinny fat" has been coined to describe individuals who are outwardly skinny but have the same medical issues as obese people. The visceral fat around the abdominal cavity can cause high cholesterol, insulin resistance, and increased heart problems. Although stuffing one's face with junk food is not a healthy way to gain weight, there are many alternative healthy foods to gain weight that can increase one's calorie intake all while providing benefits with its nutritious content.
There are many reasons for wanting to gain weight besides underlying health conditions. Teenagers are constantly looking to bulk up and have broader shoulders with stronger bodies. There are certain sports like football that require an athletic body. Weight gain food plays a huge role in a healthy body when incorporated with an active lifestyle.
So much nutrition and diet advice is aimed at losing weight, but if you're too thin, you may be at a loss on how to gain weight. Instead of trying to gorge yourself with masses of sweet, rich, or fatty foods, choose high-calorie foods that provide energy and build muscle mass without all of the unhealthy fats that can cause you harm.
Calories are the basic unit of energy used for measuring the energy in food and we all need a certain number of calories to maintain the body's vital functions. The number of calories a person needs depends on factors such as age, gender, and lean muscle mass.
Eating too few calories for a prolonged period of time causes a person to become underweight leading to muscle atrophy, weakened immunity, and eventually, organ failure. Conversely, eating too many calories causes a person to become overweight then obese, increasing their chances of heart disease, type II diabetes, and cancer.
People looking to gain weight in the form of lean muscle mass can aim to eat around 3000 calories per day depending on how many strength-building exercises they are doing.
Some of you may be wondering, what is a weight gain diet? A weight gain diet is not a new diet trend or an exact way of eating. Rather, a weight gain diet focuses on a way or strategy of eating. It focuses on eating to increase overall calories. This in turn increases weight safely, effectively, and sustainably.
he weight gain equation is pretty much simple as you consume more calories than you burn. If your metabolism is high or you do vigorous exercise, you need to consume more calories to meet your body requirements. Simply overeating can't be a solution to gain weight. However, eating five to six times a day, eating more protein and fat, adding high-calorie snacks are among the ways to gain weight naturally.
People consume various supplements and unhealthy foods to gain weight quickly without proper research. These may land them into some medical problems, thus think twice before eating anything. Instead, eat healthy foods that build muscle and increase your strength. If you are trying to gain some weight, here are a few options for healthy foods that you should eat.
This article reviews the best real foods to gain weight fast. It will cover why each food listed is a good choice and then provide ideas how to maximize the calories using each food.
Best Healthy Foods to Gain Weight Fast
In today's culture, weight loss is a more popular topic than weight gain. It seems like so many people are looking for the next best diet or food to eat in order to lose weight. However, there are many individuals who would not benefit from weight. In fact they may need to gain weight to improve their health.
This blog will dive into who may need to focus more on weight gain versus weight loss. And how to effectively and sustainably implement weight gaining foods and strategies!
The weight gain equation is pretty simple: consume more calories than you burn. If you have a high metabolism or exercise vigorously, you may be placing yourself at a calorie deficit if don't eat to meet to your need.
If you don't have a clue how many calories you burn per day, use an online calorie calculator to figure that out. Next, build a diet plan that exceeds that value.
The 3,500 calorie per pound rule has been used to set up diets. Based on the rule, is believed that reducing 500 calories per day is thought to result in a pound of fat loss or gain each week. But it's not clear how accurate the 3500 calorie per pound rule actually is or how well it will work for setting up a weight-gaining diet.
Milk
Milk offers a mix of fat, carbohydrates, and proteins.
It is also an excellent source of vitamins and minerals, including calcium.
The protein content of milk makes it a good choice for people trying to build muscle.
One study found that after a resistance training workout, drinking skim milk helped to build muscle more effectively than a soy-based product.
A similar study involving women in resistance training showed improved results in those who drank milk following a workout.
For anyone looking to gain weight, milk can be added to the diet throughout the day.
Homemade Protein Smoothies
Drinking homemade protein smoothies can be a highly nutritious and quick way to gain weight.
Making your own smoothies is the best way since commercial versions are often full of sugar and lack nutrients. It also gives you full control over the flavor and nutrient content.
Here are just a few tasty variations you can try. You can combine each with 2 cups (470 mL) of dairy milk or soy milk if you have lactose intolerance. Both have more nutrients and calories than other alternative milks.
Chocolate banana nut shake: Combine 1 banana, 1 scoop of chocolate whey protein, and 1 tablespoon (15 mL) of peanut or another nut butter.
Vanilla berry shake: Combine 1 cup (237 mL) of fresh or frozen mixed berries, ice, 1 cup (237 mL) of high protein, full fat Greek yogurt, and 1 scoop of vanilla whey protein.
Chocolate hazelnut shake: Combine 15 ounces (444 mL) of chocolate milk with 1 scoop of chocolate whey protein, 1 tablespoon (15 mL) of hazelnut butter, and 1 avocado.
Caramel apple shake: Combine 1 sliced apple, 1 cup (237 mL) of full fat Greek yogurt, 1 scoop of caramel- or vanilla-flavored whey protein, and 1 tablespoon (15 mL) of sugar-free caramel sauce or flavoring.
Vanilla blueberry shake: Combine 1 cup (237 mL) of fresh or frozen blueberries, 1 scoop of vanilla whey protein, 1 cup (237 mL) of vanilla Greek yogurt, and sweetener if needed.
Super green shake: Combine 1 cup (237 mL) of spinach, 1 avocado, 1 banana, 1 cup (237 mL) of pineapple, and 1 scoop of unflavored or vanilla whey protein.
All of these smoothies provide around 400–600 calories, along with a high amount of protein and other important vitamins and minerals.
Bagels
Bread and cereals, in general, are good sources of complex carbohydrates, such as starches and fiber that provide energy for your body. These are the types of carbs that are metabolized a little more slowly than simple carbs (like sugar).3
Bagels just happen to be extra calorie-dense. While one slice of white bread has about 70 calories, one small bagel has over 180 calories. Extra-large coffee shop bagels can have well in excess of 300 calories.4
Top your bagel with some nut butter (about 190 calories) and fruit spread (about 50 calories) and you'll have yourself a tasty, energy-packed mid-morning snack that totals 420–540 calories.
Keep in mind that peanut butter is just one nut butter to try. You can experiment with other types of nut butter including almond butter or cashew butter. You can also try seed butters such as tahini or sunflower seed butter.
Rice
Rice is a convenient and cheap source of carbohydrate. Just 1 cup of cooked white rice provides 204 calories, 44 grams of carbs, and very little fat. Also, rice is calorie-dense. It gives a high amount of carbs and calories from a single serving. This helps you eat more food, especially if you have a poor appetite or get full quickly.
Nut and Nut Butter
Nut and nut butter are healthy sources of fat and can help you gain muscle mass. They make the perfect snack to beat the midday hunger. Whether you choose almond, cashews or walnuts all are healthy options. You can also have mixed nuts and seeds to get different kinds of nutrients.
Dried Fruit
Berries, apricots, and apples can be easily dried and eaten. They have a higher number of calories per gram and also provide antioxidants and vitamins for a healthier body. As all the water content is removed, and energy-dense fruit is left, making it the best food to gain weight. Dates, figs, and prunes are also some healthy dried fruits.
The best way to eat them is as snacks. You can make your own dried fruit at home as:
Slice the fruits into strips and remove the seeds.
Cover the fruit in lemon and water.
Bake the fruits between 4 – 12 hours at 145 F.
Red Meat
Red meat is a rich source of protein that helps to build your muscles and increase your weight. It contains leucine and creatine, nutrients that play a significant role in boosting muscle mass. Steak and other red meats contain both protein and fat, which promote weight gain. Both fatty and lean muscles provide proteins that can help you to gain weight. One of the best sources is fat beef dishes – brisket.
Whole-Grain Breads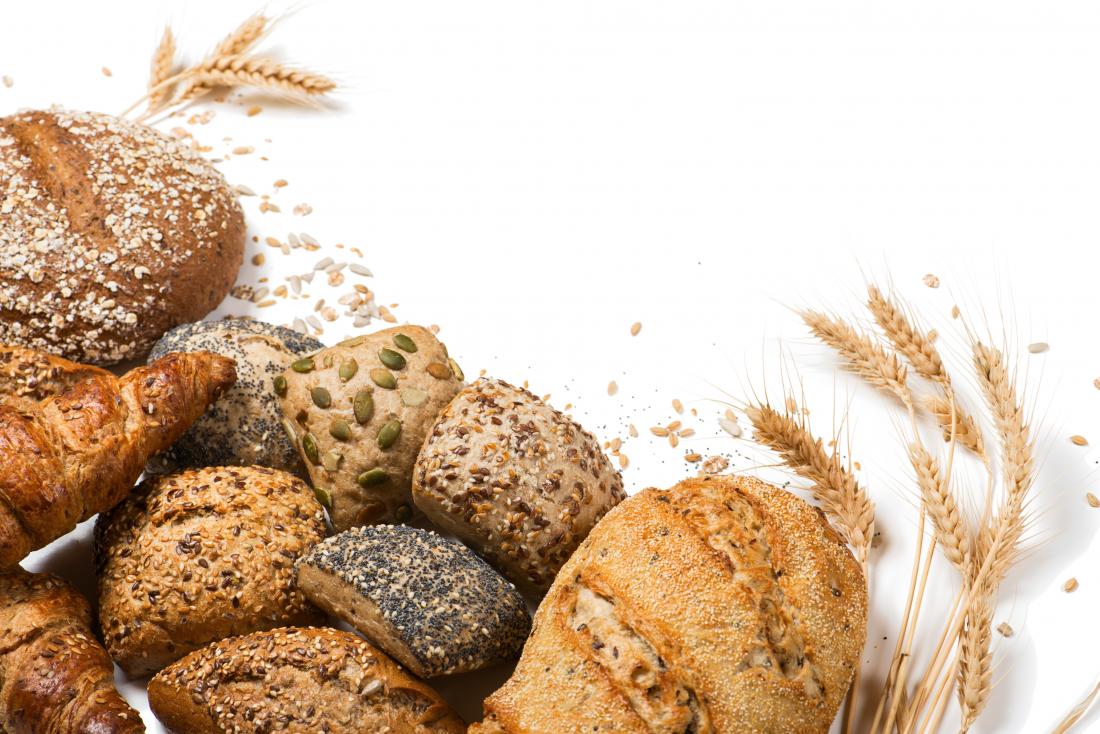 These breads contain complex carbohydrates, which can promote weight gain. Some also contain seeds, which provide added benefits.
Potatoes And Starches
Potatoes and other starchy foods are a very easy and cost-effective way to add in extra calories.
Try to choose one of these healthy sources of starchy carbs:
quinoa
oats
corn
buckwheat
potatoes and sweet potatoes
squash
winter root vegetables
beans and legumes
Not only do potatoes and other starches add carbs and calories to help you gain weight — they also increase your muscle glycogen stores.
Glycogen is the predominant fuel source for most sports and activities.
Many of these carb sources also provide important nutrients and fiber, as well as resistant starch, which can help nourish your gut bacteria.
With sweet potatoes, you can try out one of the current Instagram trends: sweet potato toast. Prep takes only minutes. Start by washing, drying, and thinly slicing a medium-sized sweet potato, then toast it to your liking either in a toaster or a toaster oven.
Then you add your favorite toppings. For example, slather it with mashed avocado and top with a fried egg (300 calories per serving). You've got yourself a perfect breakfast or post-workout snack.
Quinoa is actually a seed that's prepared and eaten like a grain. It can be cooked and eaten on its own, added to soups, or made into flour and used in bread, drinks, or porridge.
Quinoa is superior to many other grains in that it's a complete protein, meaning it contains all nine amino acids that our bodies cannot make on their own. It's also high in protein, minerals, and B vitamins.
Get a healthy dose of both sweet potatoes and quinoa in this hearty lunch recipe for quinoa and roasted sweet potato bowls (336 calories per serving).
Other ways to add calories to complex carbs include:
adding sour cream to potatoes
adding grated cheese to quinoa or mashed potatoes
adding healthy fats like olive or avocado oil to roast your vegetables
adding sliced olives as a topping
adding hummus to whole grain bread or crackers
using dairy or soy milk instead of water in your oatmeal or other hot grains
Pasta
Pasta is another calorie-dense source of carbs that provides an ideal base for any number of meals. Simply add the sauce and you're ready to go.
Two cups of cooked spaghetti has almost 400 calories. A cup of bolognese sauce adds no less than 160 calories. Sprinkle two tablespoons of parmesan cheese on top for another 45 calories, and you'll find yourself with no less than 600 calories in one meal.
​Oily Fish
Oily fish like salmon is an excellent sources of protein and important healthy fats. Out of all the nutrients that salmon and oily fish provide, omega-3 fatty acids are among the most significant and well known. They offer numerous benefits for your health and help fight diseases.
Chicken and Meat
Increasing your protein intake is not only required when you are trying to shed kilos but is also necessary when trying to gain weight. Protein is required for building muscles and chicken and meat are two best sources of high-quality protein. They are also packed with healthy fats that are good for heart health.
Canola Oil
Another healthy alternative is canola oil, a high source of omega-3 and monounsaturated fats. It is almost tasteless, making it the perfect all-purpose cooking oil.
You can use it to make the vinaigrette:
In a bowl, whisk together garlic, cider vinegar or white wine vinegar, liquid honey, and salt and pepper.
Whisk in canola oil in a thin steady stream until combined.
Drizzle over salad or refrigerate in an airtight container for up to 2 weeks.
Whole Eggs
Whole eggs are the best option for your dietician for weight gain as they are full of proteins, calcium, and healthy fats. They are muscle building food which is available easily. It is necessary to eat the whole egg, its egg yolk is very beneficial.
There are many foods and supplements available that help you to gain weight. But, instead of trying to gorge yourself with masses of sweet or fatty foods, choose high-calorie foods that provide energy and build muscle mass without all of the unhealthy fats that can cause you harm.
Salmon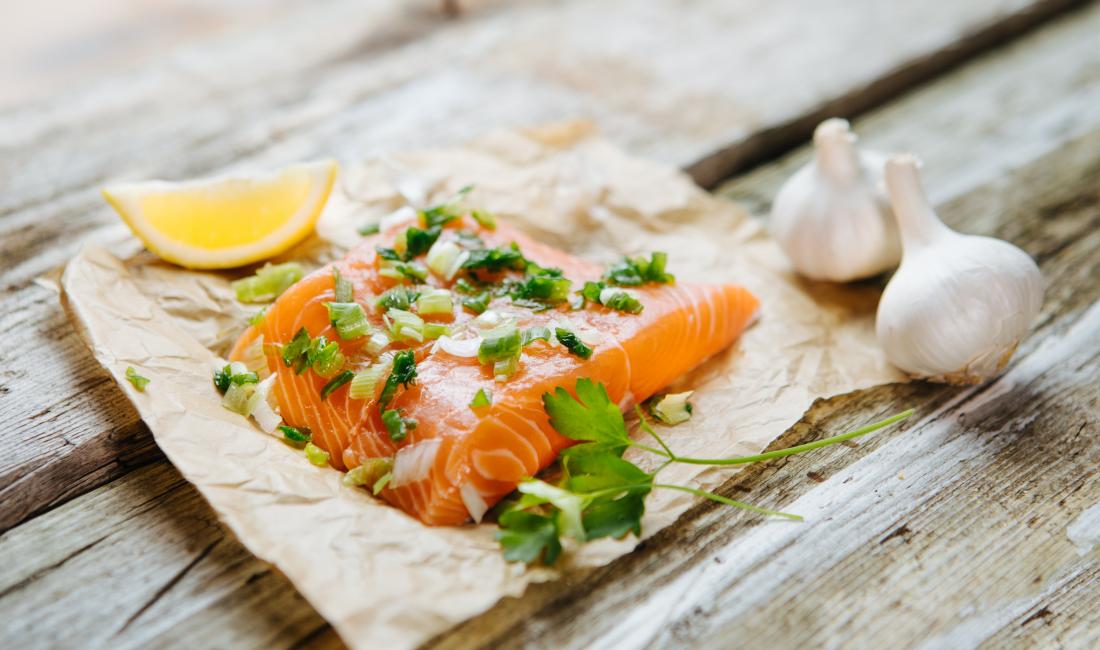 Six ounces of salmon will contain about 240 calories, and salmon is also rich in healthy fats, making it a good choice for those looking to gain weight.
It also contains many nutrients, including omega-3 and protein.
Like red meat, salmon and oily fish are excellent sources of protein and important healthy fats.
Out of all the nutrients that salmon and oily fish provide, omega-3 fatty acids are among the most significant and well known.
They offer numerous benefits for your health and help fight diseases.
Just one 6-ounce (170-gram) fillet of deboned wild sockeye salmon provides around 250 calories and 12 grams of healthy fats. The same serving packs 37 grams of high quality protein, helping you build muscle or gain weight.
You can prepare salmon in a variety of ways: steamed, sautéed, smoked, grilled, baked, or poached. You can also try smoked salmon or even eat raw salmon in sushi and sashimi.
Fresh or frozen salmon often has a slightly higher price tag, but canned salmon is a quick and inexpensive option. Almost all canned salmon is wild rather than farmed, giving it top marks for nutrition.
Consider these convenient, healthy ways of adding salmon to your diet:
Try giving your usual "tuna" salad a new spin, using canned salmon instead.
Make a Cobb salad substituting canned salmon for the traditional chicken, then add bacon, hard-boiled egg, avocado, lettuce, and tomatoes.
Give smoked salmon a try. Slather cream cheese on whole grain bread or crackers, add smoked salmon, and top with cucumber, tomato slices, or capers.
Make a salmon salad with leafy greens, asparagus, and some full fat plain Greek yogurt, mayonnaise, or sour cream.
Avocados
Avocados are rich in monounsaturated fatty acids. plus they have vitamin K, potassium, and fiber. One avocado has more than 200 calories, so it's a good way to add extra calories without sacrificing nutrition.4 Add avocado slices to your sandwiches or make guacamole to serve with baked tortilla chips. You can also add guacamole to soft shell tacos or burritos.
You might also want to try adding avocado to your favorite smoothie recipe. The mild flavor mixes well with ingredients like berries or chocolate.
Nut Oils
Walnut and grape seed oils are lighter in flavour and perfect for dressing salads. It is rich in omega-3 fatty acid ALA and other unsaturated fatty acids, as well as ellagitannins and other polyphenol compounds that act as antioxidants. Thus, consuming walnut oil may improve blood sugar levels and boost heart health.
A delightful lentil salad can be made with walnut oil:
Add lentils, garlic, onion, carrot, and water in a large saucepan.
Bring to a boil. Add salt to taste and reduce the heat to low.
Cover and simmer 35 to 45 minutes until the lentils are tender.
Drain through a strainer set over a bowl.
Whisk together the vinegar, Dijon mustard, salt, and shallot or garlic.
Whisk in the oil and 2 to 4 tablespoons of the liquid from the lentils. Stir into the lentils.
Fats and Oils
Oils, such as those derived from olives and avocados, contribute calories and heart-healthy unsaturated fats. A tablespoon of olive oil will contain about 120 calories.
Cheese
Cheese is good source of fat, protein, calcium, and calories. A person looking to gain weight should select full-fat cheeses.
Yogurt
Full-fat yogurt can also provide protein and nutrients. Avoid flavored yogurts and those with lower fat contents, as they often contain added sugars.
A person may wish to flavor their yogurt with fruit or nuts.
Protein Supplements
Taking protein supplements is a common strategy for athletes and bodybuilders who want to gain weight. There are many types available, including whey, soy, egg, and pea protein.
Whey protein supplements and mass gainers (supplements that can help you gain muscle mass) can be very easy and cost-effective strategies to gain weight, especially when combined with strength training (16).
Some people think whey protein is unhealthy or unnatural, but this isn't the case. Whey protein is made from dairy and has been shown to help improve health markers and reduce the risk of disease (17).
Protein supplements may be even more important if you're also training since your daily protein requirements increase.
Like meats and other animal products, whey protein contains all the essential amino acids required to stimulate muscle growth.
You can use it before or after your workout and at any other point during the day.
The easiest way to add protein powder into your diet is with a protein smoothie, especially for breakfast. That gives you the rest of the day to add in nutritious meals and snacks to make sure you get a balanced nutrient intake.
Generally, a smoothie that you make yourself will be more nutritious than buying one that's ready-made, which may have added sugar and flavorings.
Try this basic whey shake recipe to start your day off with a high energy breakfast. For even more protein, try adding in peanut butter, almond butter, flaxseeds, or chia seeds.
Unflavored whey protein can be added to dishes such as soups, mashed potatoes, and oatmeal to increase protein content.
Granola
Honey mixed with fruits, nuts, whole grains, and seeds makes the perfect granola. Store your granola in an airtight container and serve it for breakfast. The various constituents of granola individually provide health benefits, hence it features on our weight gain food list.
Oats, honey and dried berries in it give a quick energy booster. Granola is considered as iron-rich foods, which helps your body to counteract symptoms of anaemia and prevent chronic headaches, irregular breathing and fatigue.
Making granola at home is pretty easy with this recipe:
Take crushed oats, chia seeds, honey, cinnamon, melted coconut oil and coconut flakes in a pan.
Bake the ingredients at 350 F for 20 minutes.
Sprinkle it on milk for a healthy granola breakfast.
It also contains 20% of the daily requirement of Vitamin E, making granola very healthy food to gain weight.
Healthy Cereals
Healthy cereals can be an excellent source of carbs, calories, and nutrients.
While you should avoid processed, high sugar cereals, healthier forms, such as oatmeal cooked with whole milk, can be a great carb source to add to your diet.
You'll get about 130 calories from a 1 cup serving of cooked oatmeal, plus the calories in any whole milk or toppings you add.
Consider topping your hot oats, overnight oats, or full fat Greek yogurt with:
nuts
dried fruit
chia seeds
fresh berries
homemade granola
Grain-based cereals and oats also contain beneficial nutrients such as fiber and healthy antioxidants.
When purchasing cereals, focus on these healthy choices:
oats
granola
multigrains
bran
Ezekiel brand
Make sure to read the label and avoid cereals with excess added sugar. Choose those with the most fiber when possible.
Granola is a calorie-dense mixture of cereals, dried fruits, and nuts. It's rich in protein, fiber, and micronutrients. Just one-half cup of granola can supply between 200–300 calories.
You may want to try making your own granola to avoid the added sugars in some store-bought versions.